Here's the post where I finally make the meal. :)
I made the Crunchy Chicken Tenders, from page 196 of
The Sneaky Chef
by Missy Chase Lapine. The recipe isn't much different from what you'd expect in a chicken tender recipe, basically cover the chicken in flour, dip in egg & cover with breading. The difference here is that the egg and the breading mixtures pack an extra nutritional punch.
The egg mixture includes Missy's "Orange Puree", which consists of yam and carrots (this is the puree that Jack couldn't keep his hands off yesterday). In order to puree the yam & carrots, you first have to boil the heck out of them. I was worried that would leach out any beneficial nutrients, but the puree was still bright orange when done, so I don't think that's a real concern. I recommend using the boiling water in the puree rather than fresh water though. Photos of the puree are in yesterday's preview post
here
. I was also concerned that the puree and the egg wouldn't mix together well and actually stick to the chicken, but it did.
The breading was Missy's "Better Breading", which consists of whole wheat bread crumbs, ground slivered almonds and wheat germ. I couldn't find wheat germ in the store, so I substituted ground flax seed that I already had on-hand. Here's a pic of (most of) Better Breading:
The chicken tenders turned out beautifully.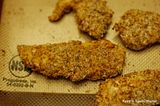 Also, in the time it took for the chicken tenders to bake, I whipped up a quick half pint jar of strawberry jam. I had a container of strawberries that were just about past prime & I didn't want to waste them!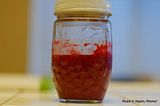 What Jack thought:
Jack loved them! He even knew the "sneaky" ingredients and it didn't phase him, probably because he loved the orange puree so much yesterday. He ate two good sized pieces of chicken.
What Colin thought:
Well, Colin only ate half of a piece of chicken. This is about typical for him though. At least I know he got a bit of extra nutrition in that half piece than in a questionable store bought or fast food chicken nugget.
What I thought:
I thought the chicken was delicious. The breading stayed nicely on the chicken pieces and tasted just like regular breading. I kind of wished I could taste the almonds though. I think next time I'll won't grind the almond so fine. I will definitely make this chicken again.
I also like the concept of the book and the book itself. Like I said yesterday, I want my kids to like fruits & veggies in their raw form, but in the meantime, I don't want mealtime to be a battle. The purees/mixtures don't seem to take much time to prepare & they can be stored in the fridge for 3 days or in the freezer. I could easily see myself spending a couple hours on a Saturday making purees for the week. A couple of recipes that I look forward to trying are Breakfast Cookies (uses ricotta cheese and a whole wheat flour/wheat germ mixture) and Brainy Brownies (uses whole wheat flour/wheat germ mixture, ground rolled oats & raw spinach/blueberries).
If you want to know more about the book, check out their
website
or pick up the cookbook at your local library.